Social Data Appends. Unlock data and find key influencers for campaign success. Social Data enables organizations to identify, profile and target high-value relationships in social media.
Over 800M people are active on Facebook
LinkedIn is the #1 business connection with 150M+ subscribers
Twitter is rapidly changing worlds and issues by leveraging 100M+ users
Customer Challenges
How can I increase the success rate of my email drops/mail campaigns/general internet marketing?
How do I identify the best prospects for my product/service?
Solutions
Target those who have LinkedIn presence for greater spending ability. They have on average 20% more monthly spend and disposable income
Target those with high Social Score (Key Influencers). They shape conversations online and are key for big wins.
What you Get in the Deliverables file:
Title
Company (Business Information)
Social Score/Description (0-4)
Facebook handle / url (if available)
Twitter handle / url (if available)
LinkedIn handle / url (if available)
Summary Metrics for File
Match Rate: Average 30% or better.  Higher accuracy of email addresses = higher return rates.
Turnaround: Up to 4 weeks
Freshness of data:  We consider the information to be up-to-date with the beginning of the screening process unless an account (email or social outlet) has recently expired or been deactivated.
Price:  $0.25/record submitted
Social Score Breakdowns:
4 = Key Influencers:
Definition: These users exist on all three major networks, generate significant discussions & thoughts and guide decisions.
Overview: This is the VIP list who are far fewer in number (usually less than 1%), but when they 'speak', they have a more powerful impact (a high call-to-action ratio) and longer influence propagation (their posts are shared by more people and travel further).
Value: These users are essential for both rapid acceleration of campaigns and ideas (to achieve a big 'pop' and get past initial information inertia) as well as for crisis management (to diffuse any misunderstandings or attacks from 'haters' or outright defend the organization).
Recommendations for Key Influencers
Get to know them in a mid to high touch relationship. They are less likely to give big financially, but are the ones who do influence the big actions of others.
Find out what is important to them and relate the mission of your organization to their passions (connect your mission to their heart).
Give them early access to information/announcements or special events and treat them as your Citizen Journalists, who will help you shape/guide what happens in public discussions.
Connect with them both in social and traditional means to enhance the fullness and depth of the relationship.
3 = Engager
Definition: These users exists on all three major networks (Facebook, Twitter & LinkedIn) and generates unique posts, shares others information and/or comments on content.
Overview: These users constitute a minority of social media users overall (usually less than 5%), but as studies show, drive 80% of all the content and conversations.
Value:  They will driving significant influence on the donations and actions of others. They collaborate, share information and contribute significantly to the viral spread of messages and ideas.  Most often their social networks (connections) are well established and have high trust value (earned strength).
Guidance: Study & monitor these users closely. They are the ones that will keep content and campaigns alive for a longer duration and will be the 'regulars' who would engage with the organization.
Recommendations for Engagers
Monitor them and find out who are the ones who are already engaging with you on the networks. They are the low hanging fruit for keeping your social community alive & vibrant.
Start categorizing the interests/passions of those who are actively connected with you to use in future campaigns & calls to action that match what they care about most.
Design mid-to-low barrier call to action for those who are not yet engaged with you actively. Should not be designed to ask them to 'like' your page, but be targeted at exciting them to share their opinion/voice on your page; most often a survey, question, or picture to post about themselves, their lives/loved ones or why the organization is important to them.
2 = Multichannel Consumer
Definition: These users have known active presences on at least two major networks.
Overview: This group rounds out the 95% of the social media users who are most often informed through social media and may participate on occasion. Social media is an important intake and influencer on their thoughts and actions, but they do not as often influence others. This is usually about 10-15% of a file.
Value:  This group is pretty well versed in social media use and mechanics has a high potential engage in specific campaigns that resonate with them or have a low barrier for participation. This group is likely a very significant source of offline activity and critical for advocacy and other calls to action.
Guidance: Organizations should monitor the behaviors/preferences of this group on a broad level to better understand the constituent behaviors and attitudes as a whole.
 Recommendations for Multichannel Consumer
Create very low barrier opportunities to increase their connection with your brand on the social networks by soliciting feedback, votes or personal stories. This connection will create the constant path of information flow to this group even though their action rate on the social networks will be moderate.
Target this set with both online and offline campaigns, ideally those that have cross-channel opportunities to take action (for example: (a) online campaigns that include link to volunteer opportunities or (b) offline campaigns that allow them to read current stories/get involved on Facebook or Twitter)
1 = Standard Consumer
Definition: These users consume information from one known network.
Overview:  For the majority of people, there is one dominant social media platform.  These users make up a significant portion of the population and research shows that around 95% of users in social media simply consume information (read updates, click links to read content, etc.) and do not actively post new content or submit comments.  Social media is one of their many ways of finding information and staying in touch with friends and current events.
Value:  These users are a strong target audience for both online and offline calls to action and campaigns. They are very influenced by friends, family & peers and will likely take action if asked.
Guidance: Plan for some direct interaction socially, but look to your Engagers and Key Influencers to share your message to them.
Recommendations for Standard Consumer
Like with Multichannel Consumers, create very low barrier opportunities to increase their connection to your mission but in this case it is more likely through a personal experience with you, or through the support of someone they know/love.
Target this set with both online and offline campaigns, ideally those that have cross-channel opportunities to take action, but with knowledge/emphasis of which network they are engaged in. For example, combining the knowledge that they are a Standard Consumer, and that their network of preference is Facebook, emphasize the activity on Facebook for both the online and offline appeals/campaigns.
0 = UnIdentified
Definition: The email provided has not been connected to any social media users.
Overview:   It is likely they are engaged to some level in social media, but not through this email address.
Value:  This represents an untapped/undiscovered set of opportunities most often. Either they are engaged in social media, but through an alternate email address, or they have yet to commit time to social media.
Guidance: To tap into this group, find ways through other online or offline campaigns to acquire updated email address information and also to drop in 'more info' links that also go to your Facebook Page or Facebook Events.
Recommendations for Unidentified
Continue to engage these constituents through existing online/email and traditional offline campaigns. Solicit for updated email addresses through campaigns such as voting or surveys.
Even for the subset of Unidentified who will not does not engage, interact or even consumer information through social media, it is important to at a minimum include some mention of social media activity. This group still represents an important segment of the user base, and they will have an expectation that you are up to speed on technology and efficacy of your mission even if they themselves are not connected.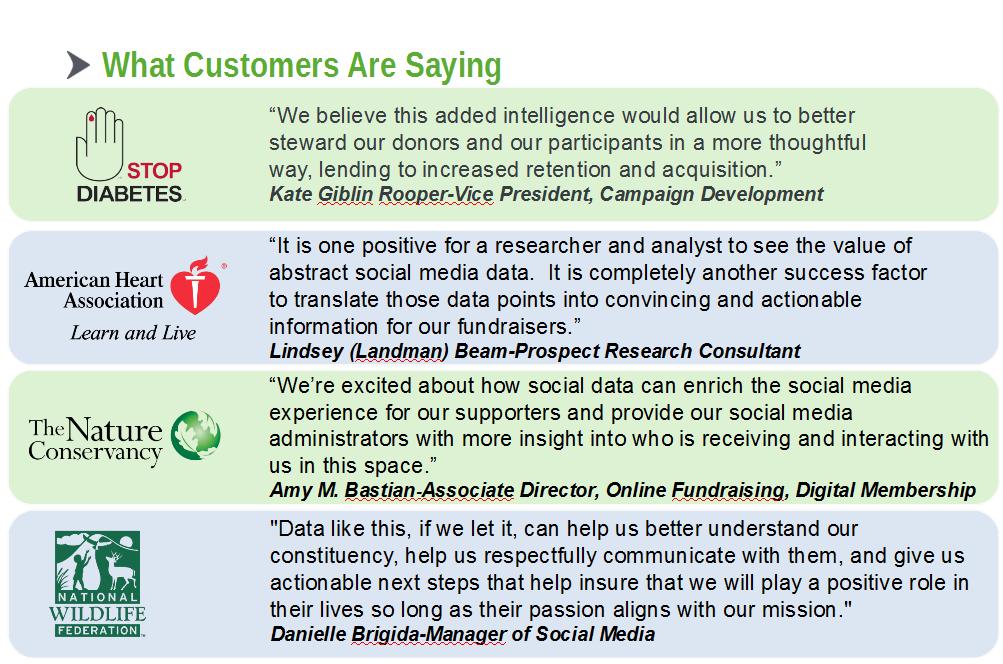 Tweet